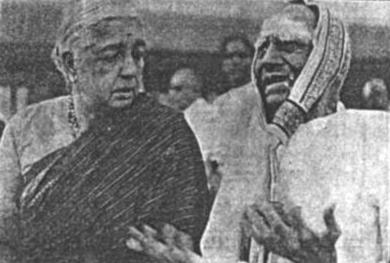 When we hear the name "Bharathi" the only face that comes to our mind is that of our national poet Subramania Bharathi, though there have been many Bharathi's around his times and even before him. Likewise, though the musical world has had other personalities that had the name "Sivan", the only face that comes to our mind is that radiant face of devotion and compassion, with a large forehead filled with the holy ash – vibhuti.
Papanasam Sivan, as he has come to be known was neither from the town of Papanasam nor his real name was Sivan. Born in a small village "Polagam", Tanjore district, to the couple Ramamrutham Iyer and Yogambal he was named Ramiah. During his days of going from place to place and singing before deities of famous shrines, when a great philanthropist rasika Sambasiva Iyer heard him sing in a Shiva Temple one day, in Ganpathi Agraharam, Tanjore, moved by his music and demeanor, he exclaimed to his friends that "Lord Shiva" Himself has descended on earth. The name christened in admiration has come to stay forever. A vaagyeyakaara (composer-performer) of high merit he lives through his exquisite yet very musically well structured compositions soaked in simple pure devotional content and of high musical value.
At the turn of 19th century, a great many musicians were already soaked in the beauty of music of 18th century trinity most especially that of Saint Tygaraja who had left a huge legacy of disciples that spread his works through the lineage of their disciples all over South India. The beautiful compositions of Trinity and a lot of other composers, and the emerging "Sabha" culture brought in new awareness and appreciation among the new generation of music enthusiasts and rasikas alike.
Within 50 years of Tyagayya's demise was born the hero of our story, Shri. Papanasam Sivan. Born on 26th September of 1890, he has come to be known as "Tamil Tyagaraja" by music aficionados. The dawn of 20th century brought so many great souls to the freedom seeking, a transformational nation of India. There were many shining stars in every facet of society throughout the nation, especially in Southern province of Madaras Residency, under British Rule. The Classical music world brought in the greats such as Muthiah Bhagavatar, Mahavaidyanatha Sivan and Neelakanta Sivan and Papanasam Sivan.
Though from the 16th century onwards, we have had Tamil compositions of Tamil Trinity, Gopalakrishna Bharathi, a host of small time Vagyeyakaras, it is Shri Sivan who has produced a volume of compositions almost equal to Tyagaraja and Muthuswami Dikshatar. Just as Italian was considered the most suitable language for western classical and operatic music, Telugu language dominated, especially the devotion filled compositions of Tyagaraja dominated the concert platforms of South India. With the arrival of Sivan's compositions, musicians could not resist singing his simple yet very elegantly structured compositions in the concert platforms soon.
His biography has been written by his own daughter Smt. Rukmani Ramani, a noted composer herself and is available as a book in music stores. There are numerous detailed anecdotes of the composer's life and his journey as a musician, actor, music director, a composer, teacher and above all a great simple soul.
Though he is known for his major contribution to Tamil repertoire of songs for concert platforms, Shri Sivan had mastery over Sanskrit as well, and has composed over 60 Sanskrit songs. His obtained "Upaadhyaayaa", "Vaiyaakarani" titles from Maharaja College of Sanskrit in Trivandrum. As he himself has admitted, he did not have any formal training in either Tamil or Music; But his learning of the works of Saivite saints, Thevaara, Thiruvasagam, Thiruarutpaa, Thiruppugazh and scriptures gave him such command over the language which is evident in his compositions. They have such structural beauty, the emotive content, words of a beautiful poet. His very first song "Unnai Thudikka AruL thaa" in the raga Kunthalavarali during the car festival at Thiruvarur before thousands of people gathered announced the arrival of a great composer with such a lilt. A respected elder "Simizh Sundaram Iyer" embraced and said in joy, "Oh Tamizh Tyagayya has arrived".
Having acted in 4 films and composed over 2000 songs (1000 of which were for film), Shri Sivan was multi faceted in every way. He set music for films, trained musicians such as M.S.Subbulakshmi, M.M.Dandapani Desikar, Musiri Subramania Iyer, and D.K.Pattammal and many great music stalwarts. Recognizing his immense talent Smt. Rukmani Arundale, the founder of Kalakshethra brought him to teach music in her institution. She herself was his ardent student. Reading through the introductory note of his first published work, brought out by Smt. Rukmani Devi Arudale, we see his humility expressed and his immense respect for stalwart of his times, "Konerirajapuram Vaidhyanatha Iyer". His thankfulness to "Sri Rangaramanuja Iyengar" of Krithimani malai for his help in bringing out the 1st volume of his works is a rare expression of gratitude.
No article on Sivan is complete without the mention of his untiring services to Bhajana tradition. Between 1912 and 1959, he was leading the Bhajan team during the Thiruvayyaru Sapthasthaana Utsavam, walking 18 miles, around 7 villages and filled the ears of many with his divine music. His Bhajana processions in the early hours during the month of Margazhi around four "maada" streets of Mylapore, Chennai, till his last days in 1973 is still a fond reminiscence in many senior musicians and rasikas that live among us today.
His devotion to the presiding deities of the holy shrine of Mylapore – Kapaleeswara and Karpangambika is revealed in so many of his songs. Who wouldn't love such such melodies like "kArthikkeya" in Thodi, "kavaavaa" in varali, "unnai allaal" in Kalyani? Truly in the galaxy of composers of Carnatic music world, Sivan stands out as a shining star of simple, elegant, aesthetics compositions and his music will fill the halls of Carnatic music around the world and enthrall generations to come.