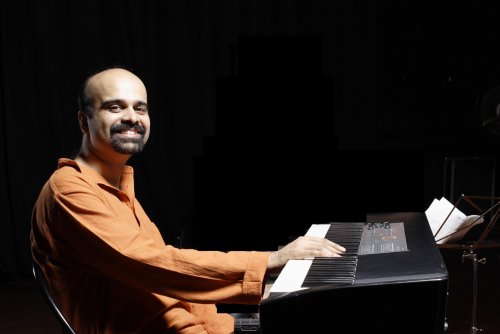 The talneted and versatile pianist, Anil Srinivasan is well trained in Classical Western Music. He is also highly skilled in Carnatic Music. So how does A Western/Carnatic Pianist standout from other 'Me too' Carnatic Musicians of the 21st Century? Score catches up the multi-faceted artist at Apparao Gallery.
Anil Srinivasan has consistently pushed the boundaries of experimenting with Classical Western and Carnatic Music on the Piano. Without mixing both the genres he strives to bring out both musical genres in his music. As the famous saying goes, "When in Rome, be a Roman", Anil gives attention to both artforms with equal care and conviction. In recent years he has been involved with a number of collaborations with esteemed Carnatic Musicians. Over the years he has collaborated with a number of stalwarts both in the World Music and Carnatic scene. His more recent collaborations have been with Sikkil Gurucharan, the Dhananjayans, Unnikrishnan, Chitravina, Ravikiran, Lalgudi Krishnan, U Shrinivas all of which have recieved high acclaim. Specifically, his collaboration with Gurucharan has recieved rave reviews in India, Singapore, Austrailia, USA and Europe.Through his music, Anil has reached out to listeners on all sorts to see and marvel in the beauty of Indian Classical Music.
[youtube_video id=eKoshGcbHUY]
On August 5th, Anil Srinivasan gave a recital at Apparao Gallery in Nungambakkam. The area was packed with silent and intent listeners who were taken to another plane by his music. Playing strictly Classical Western pieces mixed with fusion pieces of Indian film and Classical Music, Anil entertained and enthralled his audience. For his final piece, he asked the audience to request pieces that they wished to hear on the Piano.
What followed was a myriad of Carnatic/Indian Film Classics all brought together to form one fantastic, unforgettable medley.
[youtube_video id=U2NG8ksjwnk]
For those who missed his concert, or want to hear more of his work, His collaborations with Sikkil Gurucharan are available in Music Stores everywhere. Albums like Maaya (Charsur), This and the Other (TVS),The Blue Divine (Swathi Sanskriti) and Tarunam (Swathi Sanskriti). Awarded the Ustad Bismillah Khan Yuva Puraskar by the central Sangeet Natak Akademi for Creative and Experimental Music, Anil Srinivasan has also partnered with Brhadvani, a Chennai-based organization that is dedicated to propogating music education in both private and Government schools. An innovator and pioneer exploring new territories in Classical Music, Anil Srinivasan continues to mesmerize and dazle audiences around the globe.