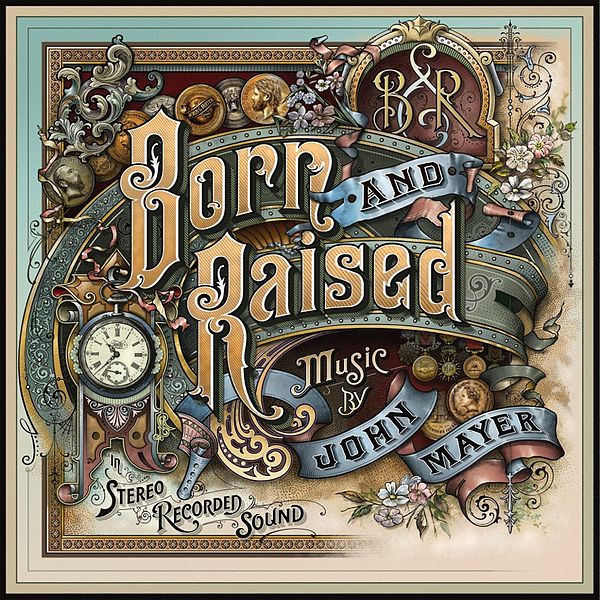 John Mayer's had it pretty tough in the last couple of years. Apart from his parent's divorce and his disastrous Playboy interview, he also had to be treated for vocal cord surgery. All these experiences are reflected on his new album Born and Raised.
---
Imagine a lone cowboy along the American countryside, strumming his guitar to the evening sun, as it sets into the night. The pure sound of his acoustic guitar over the crackle of the camp fire, songs sung with true honesty. I think this would be quite an apt reconstruction of what the album sounds like.
Gone are the days when Johnny Boy would light his guitar on fire and melt every visible face with his edgy and bluesy solos. In Born and Raised, we are treated to a more personal, humble and introspective John Mayer, someone who has learnt from his experiences and matured. This new face, contrary to his frequent tabloid appearances, is much mellower and genuinely regretful.
Born and Raised is as much a country album as it is a blues-rock album. John Mayer has absorbed all the Americana he can and brewed his own unique blend of music. He also adds an element of folk into his music by playing the harmonica on almost every song on the record. His homage to 60s singers/songwriters, like Neil Young and Bob Dylan, is pretty evident as he sings meaningful lyrics over subtle acoustic arrangements. Quite a pleasant listen indeed.
Mayer pre-released the album's first single Shadow Days in February. Shadow Days is basically a confession in essence. Mayer apologizes and regrets his soul out on this mellow Southern Rock song. The song has John Mayer written all over, but does not really reflect how the album is. Check it out yourself (Damn, Mayer really seems sorry)
[youtube_video id=daGcpvxPbCo]
The album does have its varied moments. Queen of California has Mayer singing in an introspective tone. He even pays tribute to Neil Young and Joni Mitchell in the song. The element of Americana in the song lends it a strong Grateful Dead touch. The incredible slide guitarist Greg Leisz takes over lap-steel duties.
Something Like Olivia has a loose and soulful feel. No Mayer album would be complete without a ballad and Love is a verb is just that, with its slow strut. The title song of the album Born and Raised showcases some more of John's superior acoustic guitar skills, over which he sings in unmistakeable country style. All the songs on the album are relaxed and laid-back. Mayer has also collaborated with established musicians David Crosby, Graham Nash, Chris Botti, Greg Leisz & Sara Watkins.
[youtube_video id=8K0t-jE9f5k]
Mayer is still recovering from the surgical removal of a granuloma near his vocal cords. Despite the obvious vocal hitch (the production of the album had to be halted due to the surgery), he shows no signs of any stress. His raspy vocals seem as natural as ever, happily singing about life.
The only downside of Born and Raised is that it tends to get quite lull considering that every song is the same tempo and every song is slow. It also has none of incredible blues John Mayer has come to be known for. However, he has very obviously matured over the last two years and produced a very listenable, and thoroughly enjoyable, album.
It's a pity that he will be unable to perform any material from this album live at the current moment. The album is definitely something that will grow on you, so grab it when you see a copy.