There have been many movies that have come to the silver screen from the early years of the Indian Film Industry, which are partly musical to highly classical. No language has been an exception to this. However, just as a starter, here are 10 movies that this pen thinks of to list as a recommendation to our readers. If not a comprehensive understanding of what classical music is all about, it gives a glimpse, a brief peek at the glorious landscape of classical music.
1. Sankarabharanam (1980) – Telugu
Possibly one of the greatest contributions to Carnatic Music, Sankarabharanam was a sensation in the 80's. It rekindled classicism and respectability for Classical Music if not for a radical change, then definitely for glamour value (I mean come on… how uncool were those guys on the street with their guitars and their silly hippie music in comparison to the awesome Sankara Sastri?). The theme, the artistic presentation, and the music of K.V.Mahadevan, voice of S.P.Balasubramaniam, became a wholesome package. Overnight, the light music stages were lit with the over-dramatized "Sankaraa", "Omkaraa Naadhanu", and "Doraguna", all of which were super hits from this movie. Though the late Subbudu, a noted critic, known for his pungent reviews, wrote that the choice of the singer could have been somebody like K.J. Yesudas or Dr. Balamuralikrishna, the reaction and verdict of the mass was more than what anyone could have expected. The take away from this movie should be that with a little onscreen magic, it is indeed possible to make a seemingly bewildering artform interesting and engaging to anyone and everyone.
[youtube_video id=QRasm7AUVno]
2. Thyagayya (1946) – Telugu
Most of us, the Carnatic music rasikas are used to listening to Tyagaraja krithis through the Carnatic music pedigree of Chennai Residency. Our musical appreciation is a product of how we have been groomed and shaped by the concert stars of the 20th century continuing into the current century. It is always a question in the minds of a rasika, looking at the content of his compositions as to how Tyagayya's bhakthi would have rendered them. To understand the mindset of the composer, we need to watch this movie Tyagayya, written, produced, directed and acted by Chittor V. Nagaiah, a veteran actor of yester years, had a lot of original songs of the composer, sung with excellent diction of Telugu in a simple, devout presentation, devoid of concert compulsions or sangati jugglery. There is definitely a lot to learn from this movie to do justice to composer's intent. The more recent Tyagayya (1981, now 30+ years old) had Sankarabharanam's Somayajulu doing the title role. However, the later version was not musically or critically appreciated. The only bad aspect was that in both movies, the lead actors look the way Tyagayya is depicted in pictures.
[youtube_video id=uODF8v1TUoE]
3. Baiju Bawra (1952) – Hindi
Tansen, acknowledged and celebrated as the father of Hindustani music had one competition, his guru bhai, Baiju Bawra. Bawra means insane. The movie is based on a fictional thread of the insane rage Baiju (Bajinath) had against Tansen pinning him to be the reason for his father's death. Historian Abul Fazaland Faquirulla has written that that Baiju defeated Tansen in a singing competition at the court of Akbar. Based on that account and some fiction added, the movie produced in 1952 had the best of genius Naushad sung by silky and majestic voices of Mohammad Rafi, Lata Mangeshkar, Shamshad Begum, Ustad Amir Khan and D.V Baluskar. Choicest of ragas such as Puria Dhanashree, Megh, Hindustani Todi, Darbari and Desi in the voices of Ustad Amir Khan are not that easily forgettable. Man Tarpat by Mohamman Rafi is still a household classical in Malkauns (Hindolam). Every song by each musician was the best of their glorious years in the Indian Film Music Industry. Baiju Bawra is an anyday watch!
[youtube_video id=ujp2aRncm_E]
4. Swathi Thirunal (1987) – Malayalam
A movie on a noted composer like Thyagayya from Kerala, Maharaja Swathi Thirunal of Travancore royalty was a great composer of high repute and a patron of many of the musical elites of his era. Obviously a movie on him made in 1987 had rich music and many great artists singing in the movie. Music score was done by the famous native choir music composer M.B.Sreenivasan. The songs retained the original tunes that were already gaining popularity in concert circles, sung by Dr.Balamuralikrishna, K.J.Yesudas and Neyyatrankara Vasudevan, all of them being classical music artists of fame. Dr.Balamuralikrishna won a national award for his playback singing in this movie. The aesthetic presentation of the movie had an overall artistic appeal as a package.
[youtube_video id=l5n-hxj0n4E]
5. Arunagirinathar (1964)
T.M Soundararajan was a rare find of a play back singer after the years of M.K.Thyagraja Bhagavatar, who could deliver classical numbers in movies with such clarity and authenticity. His rich golden voice and inborn aesthetics produced a lot of good classical songs in many movies for at least five decades. He acted in a few movies in the lead roles, mostly of singing saints or poets. His role in and as Arunagirinathar movie is a memorable one, if not for his portrayal of the saint poet, but the songs that he rendered which have come to stay in the minds of classical aficionados. The music for this movie was initially done by the famous G.R.Ramanathan and later completed by T.R.Papa, a noted violinist, music director and a station artist for All India Radio, Chennai. The songs like Muththai Tharu Bhakti and Pakkarai Vichitramani are still the golden stamp bearing tunes in many musical minds.
[youtube_video id=cJI5hgdvsMg]
6. Nandanar (1942, 1935)
Not many would have seen the earlier version of Nandanar with Maharajapuram Viswanatha Iyer as Vediyar (Brahmin) and K.B.Sundarambal as Nandanar. Kalki Krishnamurthi wrote a very sarcastic review for that movie, though some reviews mentioned about melodious songs in that movie. S.S.Vasan, the founder of Gemini Studios, a stickler for quality engaged a famed musician Dandapani Desikar and Serukalathoor Sama to play the lead roles of Nandanar and Vediyar respectively. M.D. Parthasarathy and S.Rajeswararaho set to music the songs of Gopalakrishna Bharathiyar whose ballet work was already popular as Harikatha, and the songs of Papanasam sivan for this movie. Every song was a hit in this movie with emotive singing by Desikar. The film itself was a major hit. Every generation of musicians since then have listened to the songs and have seen a glimpse of how sanctified the music of this generation was.
[youtube_video id=2MkHx5KGE-U]
7. Shakunthalai (1940) – Tamil
Two of Carnatic Music's greatest musicians share the screen in this blockbuster hit by Ellis R. Dungan. If there is at all a reason to see this film, it's to see a stellar onscreen pair that which is Sri G.N. Balasubramanyam and Smt M.S. Subbalakshmi. The film, whose screenplay was by none other than Subbalakshmi's husband, received rave reviews for its outstanding musical numbers. Sri Papanasam Sivan, the lyricist for the film, created beautiful songs that GNB and MS brought to life through their lilting voices. Specifically, it was the viruttham in Kambodhi raga, sung by GNB, that electrified moviegoers. Eminent vocalist, Maharajapuram Santhanam was apparently inspired to take up music as a career upon hearing GNB's virutham while Nadhaswaram vidwan Veerasami Pillai was moved by GNB's rendition.
[youtube_video id=p9DtuEpDSaY]
8. Amadeus (1984) – English
He was one of the greatest composers of all time. A child prodigy and a musical genius, Wolfgang Amadeus Mozart's work has continuously inspired generations of Musicians. So why would a Carnatic musician find this a good watch? Well, let me answer that with another question. Who wouldn't want to see the story of Mozart, a musician who effortlessly oozes genius from his compositions, through the eyes of Salieri, a dedicated and god fearing contemporary composer who devoted his entire life to the arts only to be confronted with what one would call a sheer genius? Beyond his jealousy, his deep wonderment and appreciation of his arch rival's immortal work can be found in any musician's life. With such powerful story telling of this riveting musical drama, it's a Classic to the core.
[youtube_video id=vNaXQQbcgw0]
9. Bala (1976)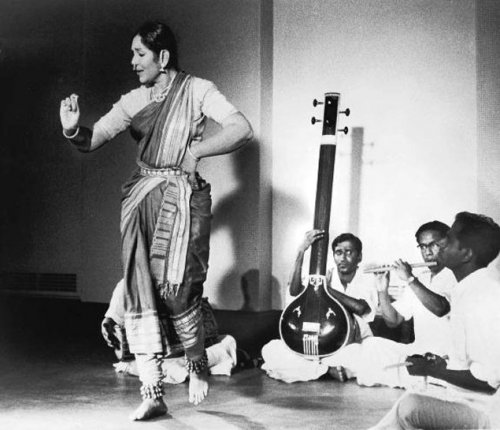 This documentary film offered as a tribute from one legend to another- by none other Oscar's Lifetime achievement award winner, the late great Sathyajit Ray on dancer Balasaraswathi. The documentary shot in later years of Bala is one of the best captures ancient glory for posterity. A lilting presentation of Krishna Nee Begane is so full of musical nuances of Dhanammal school. The exploring of one word "JagadhodhAraNa" to show all avatars of Vishnu displays sheer brilliance of her artistry. A more critical write up on this can be found here:
http://cinemanrityagharana.blogspot.com/2012/03/found-bala-1976-satyajit-ray-and-extant.html
http://cinemanrityagharana.blogspot.com/2012/03/found-bala-1976-satyajit-ray-and-extant.html
10. Meera(1945 & 1979)
Another epic directed by Ellis R. Dungan was Meera produced by Sadasivam with musician extraordinaire, the pride of India, Late Smt. M.S.Subbalakshmi. What could have been a better choice to portray the singing saint Meera other than the devout MSS? Penned by Kalki R.Krishnamurthi and set to music by S.V.Venkatraman, each song was a hit and still are evergreen in the hearts of music connoisseurs and generations of fans alike. Though this movie was remade in Hindi and was a terrific hit, another version was made in 1979 with Hemamalini in lead role, with Pandit Ravishankar scoring the music for the movie. Vani Jayaram had given the voice of Meera in this movie. Though the songs were good, they did not stay in the minds as the MSS's Meera did!
[youtube_video id=PCiqqFVY4Xw]