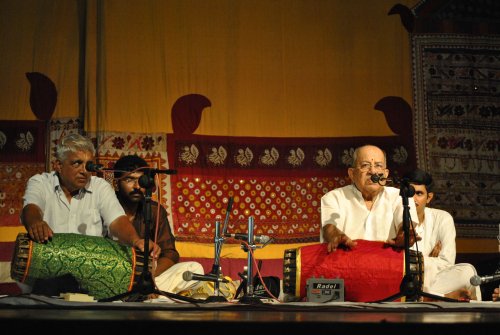 What would Sunadavinodhini and Kaanada combined together sound like? Why is a kanjira always within 6-7 inches in diameter? What are the types of ghatam existing today? Day two of Svanubhava gives us a taste of carnatic pie.
Morning Raga
The second day of Svanubhava commenced with a hindustani vocal concert by Pandit Ulhas Kashalkar. Miyan Ki Todi, a morning raag was an apt choice to begin what was to be another spectacular day at Kalakshetra. He went on to sing a composition of his own in raag Hindol-Bahar, a raag of his own creation. A jod raag, Hindol-Bahar can best be described as a cross breed of Sunadhavinodhini and Kaanada. A stunning composition followed that blew the audience away.
[youtube_video id=tVMKz3EcYvY]
Percussionists Galore
Next, a lecture demonstration by an ensemble of young talented percussionists proved to be informative and interactive for students. Krishna Kishor, mridangist and drummer, began the demonstration by educating the students from mridangam basics to showing the audience how to tune a mridangam. Kishor showed students the physics behind why one side of the mridangam (known as 'vanthalai') produces notes of 'sa' and 'ri'. Mridangist Arjun Ganesh went on to demonstrate how all seven notes can be played on the other side of the mridangam (thoppi). Percussionists Anirudh Athreya and Chandrasekara Sharma explained some aspects of kanjira and ghatam.
It was inspiring and touching when Anirudh's mother was called on stage to talk about making a kanjira (She has studied the art of making kanjiras and personally makes Anirudh's kanjiras). Sharma spoke on the different sound qualities of ghatam and demonstrated how the sound differs based on the mud that is used to make the instrument. The highly interactive session was entertaining as T.M. Krishna hand-picked volunteers to engage in mridangam tuning contests and more.
[youtube_video id=VR4vffYRwHk]
Self Discovery through Dance
After a quick break for lunch, the beauty and grace of C.V. Chandrasekhar's dance enthralled kalakshetra students and other audience members. The multifaceted dancer began with a demonstration of Jatiswarams in dance. "Jatiswarams consist of a specific pattern. The dancer dances to that pattern, we don't have a right to change it" he explained, and demonstrated this with the popular Kalyani Jatiswaram, his own composition in Mukhari, and a jatiswaram in Sankarabharanam.
The highlight was the way he conveyed the experience of Lord Kapaleeshwar through Papanasam Sivan's immortal composition, "Kana Kankodi Vendum". He concluded with the famous Poornachandrika Thillana and it was no surprise that the veteran performer recieved a standing ovation.
[youtube_video id=aJ4H-ONJJio]
A Sound of Thunder
The grand finale of the night was a magnificent percussion duet by great vidwans, Palghat Sri T.R. Rajamani Iyer and Sri V. Kamalakar Rao. Neophytes and performing musicians watched with rapt attention as the artists exchanged beautiful and intricate patterns. Rajamani's memories of his father were both heartwarming and encouraging to listen to.
An intense devotion to the artform and always offering his best to lift any concert, great or small were the defining factors for the greatness of Palghat Mani Iyer. When asked why mridangam never took off the way western drums has in the west, Rajamani can't stress enough that although the magic of the Carnatic percussion has stayed within the confines of the motherland, it's capabilities exceed far beyond any musical genre in existence today. Case closed.